Clubscene

LV's Uptown - Monday, June 10, 2006
The Glen Moore Trio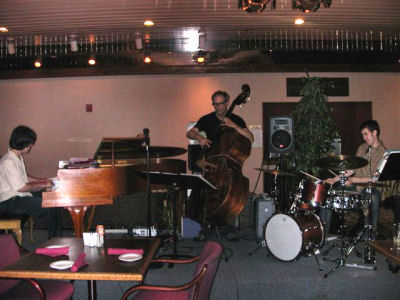 Glen Moore - Bass
Dan Gaynor - Piano
Tyson Stubelek - Drums
Portland is blessed with having nationally, and in this case, internationally known jazz musicians, reside here. I remember the day I discovered bassist Glen Moore. I was new to jazz and didn't know who he was, but when I heard him I had to find out. He was and still is, part of the group Oregon, formed in1970. After that, I tried to hear him whenever possible, at the Tugboat Brewery, Typhoon, and even solo in a city park in SE Portland.
On this summer night he was at LV's with pianist, Dan Gaynor, and drummer, Tyson Stubelek. This is a working trio, not just one put together for the evening. Tyson is in Boston during the school year, getting his masters from the New England Conservatory (so catch him this summer!). I can see why Glen chose these young musicians to work with. They are creative and intuitive.
Most of the tunes played were composed by Glen's Oregon band mate, Ralph Towner. They opened with Castlewalk, playing all together, without soloing. Next was Beneath an Evening Sky, a tune of quiet beauty. Dan carries the melody while Tyson taps the drums with his hands, switching to sticks with a light touch, and Glen binds it with his deep, gorgeous sound.
I was meeting up with my friend, Alice Brown, that night and when she walked in Glen said, 'Now that we're all here . . . "
Next was Green Room which Dan begins with intensity, Glen treats us to a solo and Tyson uses brushes and quietly fades out at the end. Vessel, another lush beauty, begins slowly and Tyson shakes what looks like African seed pods woven together, then they increase the tempo and volume. Glen repeatedly slides his finger on a string, making a whoop sound, then switches to bowing. Far Cry is moody, with Glen's chords low, and Dan playing in a higher register, while Tyson uses brushes. The next tune, An Open Door, Glen quips, is their theme song. It is full of optimism and Tyson gets to make a lot of noise. The solos are not always distinct, creating a smattering of applause from the attentive audience.
At the break, Glen talks to students and fans. He sits with his longtime friend, Alice, and they reminisce. He tells us that he's going to Europe with Oregon soon. He is as unpretentious as they come.
Glen wrote Impending Bloom, and they open with each musician quietly soloing at the same time, like Ornette Coleman's Free Jazz, becoming a cohesive beautiful melody. Glen uses his bow, Tyson taps out a Latin rhythm on the rim of his drums, then it's Dan's turn for the Latin rhythm, and they return to the melody.
Tango Amour was composed by Gary Versace, a pianist who used to perform in Portland and is now in New York. It is elegant, contemplative, unhurried. Glen bows and Tyson gently taps symbols and shells, then the drums with his hands. Glen starts on Ellington's Caravan and Dan takes the melody way out, then Tyson solos. Glen bows and slides fingers on strings making a wooee sound, then plucks strings rapidly while bowing and finishes with a dramatic two taps of the bow, which surprises us and makes us laugh. Then on to Steve Swallow's Eiderdown, which was recorded by Gary Burton. Glen announces another Steve Swallow tune Wrong Together, saying they're not going to play it, that it's just such a great title. Next is Carla Bley's beautiful Ida Lupino.
They return to Towner for their last tune, Aria. Glen begins with bowing, Dan's keys are discordant, then pretty. Glen bows low, high, and in circles, making interesting sounds. This audience understands the magic that Glen Moore creates and is willing to give up an early summer evening to experience it.
Now that LV's has moved to the larger, restaurant space, there's room for more listeners. It's all ages and there's no cover charge and it's non-smoking. Music is from 7 to 10 pm Friday and Saturday's. Free parking! 310 SW Lincoln St.
503-221-0140.