Clubscene

Produce Row Café - May 12, 2006
Steve Hall Quintet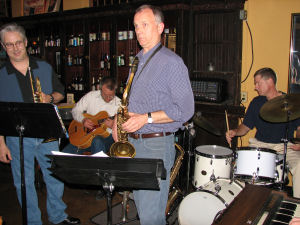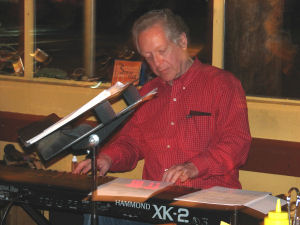 Produce Row Café, 204 S.E. Oak St. -- It's here that jazz devotees gather a couple times a week in a nondescript building on the corner of Oak & S.E. 2nd Ave, in a blue collar section of Portland. Warehouses, transfer rails cleave a cobblestone street; delivery vehicles line up on both sides of the road.
The carte du jour offers a variety of sandwiches, soups and daily specials; the items listed are tasty and ample. Domestic and international beers, chilled for the connoisseurs and the practicing drunks, await consumption; also the establishment recently was issued a license to dispense alcohol. A full service watering hole, with a pool table in the back.
This quintet illustrates their abiding love for certain jazz titans of the 1960's and 70's, Horace Silver, John Coltrane, and the late Don "Jake" Jacoby, with a fusion of music that taps old and universal emotions, expressed in a totally contemporary way.
The melodies and harmonies are slightly multifaceted with varying rhythms and a wee bit more musical interaction between soloist and accompanist.
Musicians:
Steve Hall (leader, organist, and composer), a California native with a fondness for organists like Jimmy Smith, Jack Mc Duff and Joey De Francesco just to name a few. A Berklee College of Music graduate, he resurrects melodically rich compositions on the Hammond xk-2, drawboard organ.
Cal Hudson (tenor and soprano saxophones), a Pacific Northwest native, well known in the Portland Jazz Community. Cal has a modern-day saxophone sound that draws from the past.
Patrick Nearing (trumpet) -- Local teacher and jazz musician.
Peter Schwimmer (guitar) -- Before coming to Portland he resided in several major cites across the U.S. including Bellingham WA. A sizzling jazz guitarist, banjoist and mandolinist.
Kenny Morse (drums) hails from Steve's home town of Palo Alto, CA. Kenny has done cymbal work and snare snaps with blues, fusion, and pop music groups; he enjoys working in any expression of music.
Tunes heard:
On A Scale Of One To Five
Groove kicking bop, the spotlight shines on the quintet to solo. Trumpet and saxophone playing unison lines over a stoking rhythm section: they master the grooves and nuances regardless of genre.
Better Late
Up tempo with a slight reverb of the horns, a rhythmic palette of harmonic voicing.
Rasta Turtle
The essence of the Caribbean flavored with pulsating rim shots.
Monk's Dream
Lightheartedness that is in attendance in Monk's music. Kenny adds color to the drum elements to keep the time loose, telling a story using his tom toms and cymbals. Vamping bass lines from the drawboard.
Blue Sky And Black Coffee
Horns naturally soft and dark tones added a fullness that is round and vibrant, spirited, and soulful you could feel the grand and panoramic joy, while perceiving wispy breezy color.
Livin' The Blues
A playful romp, a swampy stew anything but blue.
Moment's Notice
A large dose of warmth to the guitarist for his delicate but inspired sense of harmony. A brilliant technician, you could feel the self-imposed pressure, the way he emotionally interprets each song. A real cool cat.
An intense performance.