Clubscene

The Blue Monk - Saturday, April 29, 2006
The Dan Schulte Sextet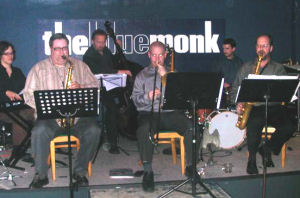 Dan Schulte, Bass
Dan Gaynor, Keyboards
Ken Ollis, Drums
Dave Evans, Tenor Sax
Ben Medler, Trombone
David Valdez, Alto Sax
Bassist Dan Schulte feels that music means something, that it conveys messages and plays a subtle role in the currents of thought in society. So, on this night, without fanfare, he opens with a short, tonal chorale treatment of America The Beautiful. It was clear this would be an interesting evening of music. I didn't know what to expect, but I knew that Dan brought six outstanding musicians together: drummer Ken Ollis, Dave Evans on tenor sax, trombonist Ben Medler, David Valdez on alto sax, and keyboardist Dan Gaynor. I've seen all these musicians in different configurations and was excited to see them together, performing Dan's compositions and arrangements.
We were treated to an impressive array of tunes, starting with And The Angels Sang, a New Orleans tune with a funky rhythm, featuring Dave Evans, who has credentials, having performed up and down the Mississippi with Al Hirt for 7 years. Schulte's ballad arrangement of Blame It On My Youth featured pianist Dan Gaynor exclusively, with quiet horn backgrounds and Ken Ollis using brushes. Next came the title track to Schulte's forthcoming CD, Strange Pilgrims. This 10-minute composition demonstrates a keen melodic sense, subtle dynamics, and an extensive development section with solos featuring each of the musicians. Next was Dan's arrangement of Tricotism, an homage to bassist Oscar Pettiford, presented in two voice melody with bass and alto, highlighting David Valdez's improvisational ideas and deep, grooving rhythm. Dan's Room 6104 was a long scale composition, featuring Dave Evans on tenor. Evans displayed a mature, poignant sense of beauty tinged with emotional content and created a mood that held our attention. The bridge sounds like music from many years ago, jazz from a time long since passed. The piece later becomes a festive, loose dance beat, with everyone improvising together. The title refers to the hospital room where Dan's mother died and he says the music illustrates the relationship of life to death, happiness to sadness. It certainly evoked a mood, and Dan demonstrated his big, round sound and vibrato. To Whom It May Concern felt like a tango, with drama and lush beauty, and Ben Medler's tone on trombone was gorgeous. Broken Wing was a bebop-leaning melody written over the cords to Bye Bye Blackbird. In this one, Dan Gaynor displays why he's in demand, with his creative solo and subtle support.
The second set opened with a bass feature by Schulte, Unsettled, and it conveyed that feeling. Twila, featuring Valdez's beautiful alto, was written for a recently departed beloved secretary at Western Oregon University, Schulte's base of teaching in the mid-Willamette Valley. This was one of the most beautiful tunes of the evening. Ben's trombone makes the opening statement on Brushin' Up, with Ken Ollis showing his skills on this "brushes only" exercise. The horns add a mournful sound, and a cacophony of joyful noise breaks out, returning to mournful horns and the sound of Ken's brushes. The Willies, written by Dan Gaynor, has a big band sound, which was remarkable with just six musicians! Schulte surprises us with 3 Piano Pieces by Bela Bartok, Let's Play, Bear Dance, An Evening In The Mountains, orchestrated for sextet. Schulte joked that they were running out of tunes. They concluded with a pretty I'd Rather See You Smiling, and a soulful solo by Evans on Gordon Jenkins' Goodbye.
At one point during the evening, Dan asks the noisy audience to listen to an upcoming ballad, and when the lively Saturday night audience doesn't quiet down, he says, "or not" displaying his easygoing manner and sense of humor. Those of us who were there to listen, came away richer for having done so. A good time was had by all.
The Blue Monk is located at 3341 SE Belmont St. Its downstairs club is non-smoking and there is usually a $5 or $6 cover charge.
http://www.thebluemonk.com.
David Valdez is JSO's Featured Musician of the Month May, 2006.