Clubscene

The Blue Monk - Thursday, April 27, 2006
Andrew Oliver Quartet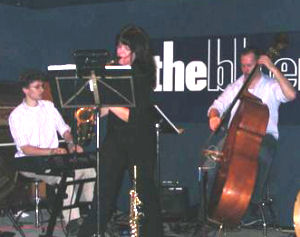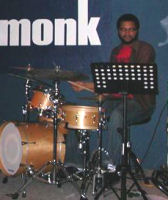 Andrew Oliver - Piano
Mary-Sue Tobin - Saxophones
Eric Gruber - Bass
Drew Shoals - Drums
You all must know that The Blue Monk is one of the finest jazz listening venues in Portland and the Northwest. Good food and drink, and non-smoking. The access is downstairs so that might make it difficult for some of us. Very welcoming, superb wait staff. Nice younger crowd.
Andrew Oliver is a very fine young pianist and composer. His work is rooted in straight ahead and progressive jazz. His band mates have worked with him for some time, and they all relish music done right, and work hard to give a satisfying musical experience. For contact email andyj.oliver@gmail.com.
On this session, the sax, bass and drums, began the set on time while Andrew was in transit from a student ensemble engagement. They played some recognizable and engaging work from Sonny Rollins and Thelonious Monk. After Andrew landed, they launched into an original composition. Very beautifully rendered. The solo work by Mary Sue was exquisite.
It Could Happen To You. Arrangement by Mary Sue Tobin, I'll bet. She specializes in bringing in tricky key changes, and rhythmic variations that make my head spin. On this piece, I barely kept up with the twists and turns. Basic structure was in three-quarter then switched to 4/4 in mid-stream, then back again.
Third Piece was another original, a ballad with Mary Sue opening on the soprano, playing solo in the higher register, a tricky melody with a fluid meter. Andrew takes over the next chorus, with many clusters, among the rapid runs around the several keys of this composition, and moves from the ballad form to an ensemble romp -- obviously well rehearsed. This free form makes a big space for Eric to strut in a masterful extended solo. The slippery meter is used to great advantage by Mr. Gruber.
Next is a wonderful composition by the great saxophonist, Chris Potter, called Okinawa. The next one, written by Andrew, is one he wrote while in Poland, and it has a strong Eastern European feel. He says the name, which sounds like "Chefs" in English is the Polish word for six, Szesc. You do get a sense that the meter is based on sixes, and it rings true as a solid jazz composition. I hope other jazz players work with this complicated but beautiful tune. There is always a lot of emotional content to be mined from a great composition, and that's why we have improvisation. (That's how Jessica Williams described it so aptly to me, when I presented her in a house concert in Eugene. I think it helps me hear so much more in the music, now.)
Next was Ornette Coleman's Una Muy Bonita, which is a playful tune, and was played with a bluesy interpretation. The arrangement was by Bobby Hutcherson. (In my opinion, he is one of the greatest players in all jazz and still playing in the West, as part of the SF Jazz Collective.)
I need to mention how cool Drew Shoals is. He is amazing. He always has a new angle, a new texture, new counter rhythms, etc. His facial expressions alone are priceless. Abandon, delight and freedom are his currency. He plays as if to say, "Look Ma, No Hands!"