Clubscene

The Blue Monk - Friday, April 14, 2006
Fiction Junkies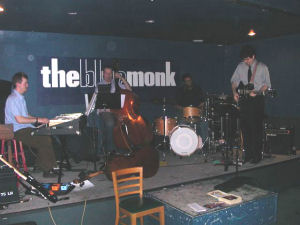 Drew Shoals is a busy guy. This phenomenal young drummer is involved in a lot of projects, as well as getting the call to sub for Mel Brown on occasion. Drew received the Outstanding Drum Soloist award in the college division at the 2005 Lionel Hampton Jazz Festival, while graduating the same year with a degree in African American Studies from Whitman College. He's returned to Portland and one of his projects is Fiction Junkies http://www.fictionjunkies.com/, a young talented group who play original music. The band members are Matt Weiers on Fender Rhodes and guitarist Dan Duval, who co-write their music, the soulful Eric Gruber on acoustic bass, and Drew on drums http://www.drewshoals.com/.
Listening to Fiction Junkies for the first time was a pleasant surprise. I knew these guys played original music and I didn't know what to expect. I kept trying to think who they sounded like and then, finally, just felt the music. Their music is exuberant, dramatic, nuanced and richly textured. They trade solos like seasoned professionals, providing subtle support for each other. Their tunes are at times sweet and sometimes frenetic, but always accessible. Their music is fresh and intelligent.
During their second set they had fun inviting musicians to sit in. Chris Mosley on guitar, drummer Mark DiFlorio, and a young woman visiting from out of town, on cello. Late in the set, they performed the song Fire, beginning with Matt combing the keys, Drew using mallets, and Dan's guitar was discordant, adding to the cacophony. The tune becomes cohesive, with Drew switching back to drumsticks and his rapid fire drumming drives the group. At the end, Drew jumps up and tosses his drumsticks, and Matt exclaims, "Experimental moments in jazz!"
This is a smart bunch. Go to http://www.fictionjunkies.com/home.htm and see what they're reading!
The Blue Monk is a great venue for an intimate music listening experience. It's also a great place for upscale Italian food. It's located at 3341 SE Belmont St. 503-595-0575. The downstairs club is non-smoking. $5 or $6 cover. Check out their menu at http://www.thebluemonk.com.