Clubscene

The Blue Monk - April 7, 2006
Farnell Newton, Marcus Reynolds Quintet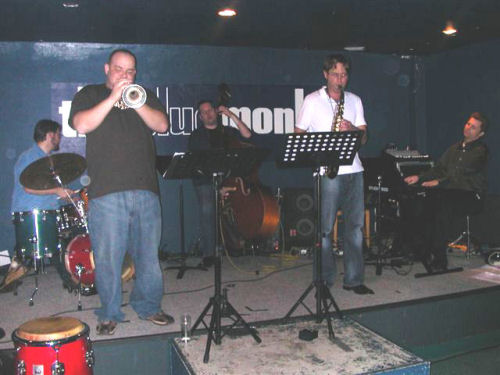 Trumpeter Farnell Newton http://www.fnmusicweb.com/ and pianist Marcus Reynolds have been collaborating ever since they met in a music store in 2000. Farnell heard Marcus playing and thought, "He sounds good!" He should know. Farnell graduated from the Oberlin Conservatory of Music. Marcus graduated from Western Michigan University with a degree in Classical Piano Performance and Jazz Studies and it turns out they had friends in common. This collaboration has brought forth their recently released CD Sense of Direction. They had back to back release parties March 10th & 11th at Jimmy Mak's & The Blue Monk. And both houses were packed.
On this quieter night they were joined by Ben Fowler on alto saxophone, and the dynamic rhythm duo of bassist Eric Gruber, and drummer Joseph Janiga http://josephjaniga.com/. Conga player Giovanni Cruz sat in on a few numbers, which was a nice match since Farnell also plays in a Salsa band and Marcus has an understanding of Afro-Caribbean rhythms. Much of their music is original. They opened with Marcus's The Two Larrys, a beautiful tune dedicated to two jazz organists, Young and Goldings. Farnell's warm, clear tone was breathtaking, while Marcus's quick, light touch, impressive. Farnell's Lover's Grove is equally gorgeous and they gave it a Latin rhythm this time. Litoral, written by Marcus, is another very pretty tune, meaning coastline in Portuguese. Minha Valsa is a lovely waltz written by Marcus. Marcus was cooking on a fast paced version of Thelonious Monk's Blue Monk. There were other, delightful treatments of standards, as well. Alone Together, Wayne Shorter's El Gaucho, Cedar Walton's Bolivia, and Jimmy Heath's A Sound for Sore Ears. A sound for sore ears indeed, their music is beautiful and inspired.
I highly recommend their CD Sense of Direction http://www.fnmusicweb.com/fnmr and encourage everyone to get out and see Farnell and Marcus perform together. Farnell also plays with Klezmocracy and Marcus performs with his wife, jazz vocalist Jessica Schultz.
To read Marcus and Farnell's bios, go to http://www.fnmusicweb.com/fnmr/bio.html.
The Blue Monk is located at 3341 SE Belmont St. It's cool, downstairs club is non-smoking and there is usually a $5 or $6 cover charge http://www.thebluemonk.com.