Clubscene

The Blue Monk- Friday, March 24, 2006
Devin Phillips & New Orleans Straight Ahead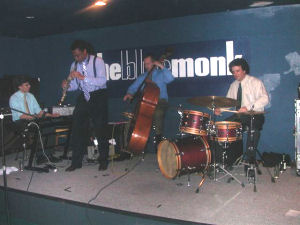 Devin Phillips is a treasure and we're lucky to have found him. Actually, he found us by being the first musician from New Orleans to respond to the Portland Jazz Festival and Azumano Travel's invitation http://nola2pdx.com/ to come to Portland after Hurricane Katrina. He plays tenor and soprano saxophone and opened for the jazz festival with a moving solo of Amazing Grace.
I went to see Devin Phillips & New Orleans Straight Ahead at the Blue Monk and it was filled to capacity. And it's no wonder. Devin plays with intensity and focus that belies his 24 years. He takes his work seriously. But he has fun, too, facing his bandmates, acknowledging them when they're playing an especially exciting solo. His group is usually a quartet, but he occasionally adds another horn. His band is comprised of fellow New Orleans drummer Mark DiFlorio http://www.markdiflorio.com/ who was called upon to play with Nicholas Payton during the Portland Jazz Festival, and pianist Andrew Oliver, who's from Portland and attended Loyola University in New Orleans from 2002-2005, and is finishing at PSU. Andrew was phenomenal and had people asking, "Who IS that kid?!" Bassist Eric Gruber took the place of Nobu Ozaki, who recently returned to New Orleans. Eric meshed well with the group and one of his solos hushed the audience. They played a swift, breathtaking My Favorite Things, and a sweet version of The Girl from Ipanema. Devin's Afro Blue on soprano sax was just gorgeous. They closed with The Ballad of Chet Kincaid, a charming tune co-written by Bill Cosby and Quincy Jones.
Devin honors his roots, keeping the New Orleans music alive, and played Armstrong's Royal Garden Blues, and a fiery version of a traditional, Wade in the Water. He also dedicated a song to Alvin Batiste, his teacher at the New Orleans Center for the Creative Arts. Devin is a remarkable musician, but remains humble and thanked Portland for welcoming him, saying, "If the rest of the world was like Portland, it would be a better place." Let's get out and support him and hopefully, he'll stay!
The Blue Monk books top local talent and occasionally, nationally recognized artists. The range of music is broad and draws all ages (+21). The club is downstairs and smoke-free. It's a comfortable place to meet up with friends or to make new ones, making it easy to become a regular there . . . $6 cover. http://www.thebluemonk.com