Clubscene

Alexander's at the Hilton - Thursday, March 23, 2006
Ron Steen Jam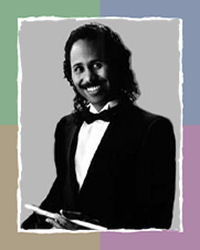 Imagine a room some 20 feet across, maybe 50 feet in length, full-height windows on the longest, unbroken wall, mirrors floor-to-ceiling at one end; the opposite end holds a bar, stools, and gaiety -- the entire space feels as if it's floating 23 stories above Broadway: Alexander's at the downtown Hilton. Tables and chairs cluster about in bits of fours, the intensity of the light outside the windows indistinguishable from inside's. As the night darkens, only the twinkling red lights, far off in the distant hills, remind you of your roost.
Into this space, Ron Steen and his musical co-conspirators step, four nights a week. We're the lucky ones: we get to witness this aural and visual spectacle just for the price of a drink or two, or maybe a meal.
Last night, was just such an evening. Ron brought with him Dan Schulte on bass, Steve Christofferson on piano, which, for us regulars at Alexander's, takes on special meaning: Hilton's new Yamaha grand, a G-1, gave Steve the chance to show chops we rarely get to hear. They started the first set with "Bag's Groove" by Milt Jackson, Dan using a bluesy bass line, punctuated with Ron's precise drums and cymbals, Steve's stomping chords. The joy in that tune and in their performing it started a grin that would last 'til midnight. They followed that with a lighter piece, "If I were a Bell" in which Ron's "tink" on the center of one of his cymbals, rang as though a bell itself. One of the tables next to us, pretty heavy into celebration of one sort or another, turned to face the bandstand. Having caught their attention, Ron and company followed it with "Invitation." About now, maybe quarter to nine, the night sky shaded even deeper, turning blacks and whites into a mottle. At Alexander's it's always tough to focus on just one source of stimulation, visual or aural.
Ron Steen is a magnet, drawing musicians to him like . . . well, you know. During the last tune, Robert Moore, the trumpeter and vocalist had arrived and was unpacking his axe. He no sooner finished that and Ron had him at the bandstand doing "Straighten up and Fly Right," scatting between tootling on his horn.
Moore followed that tune with, as he put it, "apologies to Billie Holiday," his rendition of "God Bless the Child." I think she would have enjoyed his rendition as much as the rest of us. As is his custom, for Moore's next tune, "Bye Bye Blackbird," Ron invited another drummer to play, Scott Askom, who jumped right in where Ron left off.
To us listeners this seamless interleaving is just short of miraculous. This becomes even more evident on the last tune of the night: Dan Schulte gives over his bass to Bernie Keough, and Schulte sits down at the piano replacing Steve Christofferson; earlier in the evening, Robert Moore sat down on the bench with Steve, and while another trumpet player, Levis, blew away, Robert hit seconds and thirds on the piano, augmenting the trumpeter.
When Ron convened with Steve and Dan again, they began with Charlie Parker's "Anthropology," followed by Billy Strayhorn's "Daydream." During the break between sets, two young men, Chance Hayden and Levis had shown up, Hayden with guitar, Levis with trumpet. Levis, though from Romania (but here for 20 years), showed chops that any American trumpeter would be proud of; and Chance Hayden (is that name showbiz or what?) was superb on the guitar. Ron invited the youngsters up, and they suggested Antonio Carlos Jobim's "Girl from Ipanema," which stroked the crowd into a Brazilian mood.
From that, the five of them, plus Robert Moore, drove into Thelonious Monk's, "Straight, No Chaser." Moore would scat, his trumpet hanging from his hand, Levis filigreeing around those sounds; then Hayden countered with his insight on the piece, then Steve Christofferson, having picked up on everyone's modalities, comes up on that new grand sounding sublime.
About this time, the early listeners, mostly hotel folk who are staying below, return to their rooms; it's the diehard jazz fans now, and conversation drops a decibel or two, it's still beautiful outside, but the music gets even tauter attention from the listeners. Steen loosens it up a bit by noting that another drummer, just arrived in the room, Ronnie LaGrone, "is from Tupelo, Mississippi, Elvis' home..." and we all laugh. Before long, Ronnie has replaced Steen at the drum set. Seamless, as always, they jump on Ellington's "A Train," Moore pulling a harmonica from somewhere in his pocket and blowing hard.
The band breaks: so much going on in front of us musically, so sweet the sounds, that we forget how unobtrusive the staff, Sean, Judy, Pauline and Andrea are in serving our drinks and food, clearing things away. And yet when a blues breaks open, Pauline will dance a bit, and in the mirror, way back at the bar, we can see Judy and Sean, grinning and grooving with the music too.
For the last set, Steen calls Steve back to the piano, Dan to the bass, and they kick it off with Moore singing "Kansas City." You would think at this time of night these guys would be tired, but Ron is electric on the drums, working all the surfaces with intimate touches, Dan's wringing blues chords from his bass, and Steve's making the piano sound like it was made for the blues. Always modulating the performance, Steen invites Carri Bella to sing. She chooses "Autumn Leaves," and the mood changes. She follows that with "Poinciana," followed by "You've Changed." Bella's slightly acerbic, yet mellifluous tonalities put everyone in a contemplative mood.
When midnight rolls around, it always comes as a surprise. The reason these evenings are so stellar, that the music is as good as anything you're going to hear on the planet, is largely the self-effacing work of Ron Steen. He invites everyone to play, he makes sure they're up to standards, he plays off his audience, he encourages everyone to have a good time, and when it's over, you know you're coming back.
Robert Moore was JSO's Featured Musician of the Month October, 2005.