Clubscene

LV's Uptown - Friday, March 17, 2006
Darrell Grant Duo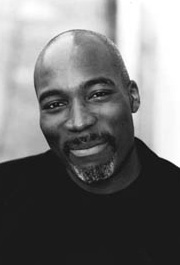 Many Portlanders know Darrell Grant (http://jazzusa.com/stories/darrellgrantliveatlvs.asp) as a classy, stylistic jazz pianist with an enthusiastic approach to every tune. I hadn't seen Darrell perform in many months, and the eve of LV's first anniversary seemed an appropriate night for another injection of Grant's soul-warming music.
This night he was accompanied by Eric Gruber on acoustic bass in excellent fashion. These guys have been performing together for some time now and it shows in their seamless interchange of solos and fantastic timing over complicated stretches. Gruber's solos were spot-on, inventive, and a beautiful fit with Grant's keyboard magic.
Darrell's tune selection was impeccable, as always, offering up Killer Joe, Just Friends, Sophisticated Lady, Rain Check, No Greater Love and Upper Manhattan Medical Group to get the night rolling. Even though most jazz fans will recognize all of these selections, Darrell has a way of bringing them new life with a creator's touch, putting his indelible signature on every tune. I had forgotten what a pleasure it is to hear him play. I won't wait so long next time around.
LV's Uptown is located at SW 3td and Lincoln, and offers the double bonus of no cover and no smoking, plus FREE PARKING. The atmosphere is comfortable, service helpful and friendly, crowd fairly knowledgeable and appreciative, and a good vibe all around. LV's also kicks off a bit earlier than most clubs, with gigs commencing at 7:00 p.m. and going til 10:00 p.m. Fridays and Saturdays. You can check their schedule for upcoming events at http://www.lvuptown.com/schedule.htm.